Annexes
Annex 1. You and your bicycle
Make sure that you feel confident of your ability to ride safely on the road. Be sure that
You choose the right size and type of cycle for comfort and safety
Lights and reflectors are kept clean and in good working order
Tyres are in good condition and inflated to the pressure shown on the tyre
Gears are working correctly
The chain is properly adjusted and oiled
The saddle and handlebars are adjusted to the correct height
It is recommended that you fit a bell to your cycle.
You
MUST
Ensure your brakes are efficient
At night, use lit front and rear lights and have a red rear reflector
[Laws PCUR regs 6 & 10 & RVLR reg 18]
Cycle training
can help both children and adults, especially those adults returning to cycling to develop the skills needed to cycle safely on today's roads. A new national cycle training standard has been developed which the Government is promoting and making funding available for delivery in schools.
All cyclists should consider the benefits of undertaking cycle training. For information, contact your local authority.
Annex 2. Motorcycle licence requirements
If you have a provisional motorcycle licence, you
MUST
satisfactorily complete a Compulsory Basic Training (CBT) course. You can then ride on the public road, with L plates (in Wales either D plates, L plates or both can be used), for up to two years. To obtain your full motorcycle licence you
MUST
pass a motorcycle theory test and then a practical test.
[Law MV(DL)R regs 16 & 68]
If you have a full car licence
you may ride motorcycles up to 125 cc and 11 kW power output, with L plates (and/or D plates in Wales), on public roads, but you
MUST
first satisfactorily complete a CBT course if you have not already done so.
[Law MV(DL)R reg 43]
If you have a full moped licence
and wish to obtain full motorcycle entitlement, you will be required to take a motorcycle theory test if you did not take a separate theory test when you obtained your moped licence. You
MUST
then pass a practical motorcycle test. Note that if CBT was completed for the full moped licence there is no need to repeat it, but if the moped test was taken before 1/12/90 CBT will need to be completed before riding a motorcycle as a learner.
[Law MV(DL)R regs 42(1) & 69(1)]
Light motorcycle licence (A1):
you take a test on a motorcycle of between 75 and 125 cc. If you pass you may ride a motorcycle up to 125 cc with power output up to 11 kW.
Standard motorcycle licence (A):
if your test vehicle is between 120 and 125 cc and capable of more than 100 km/h you will be given a standard (A) licence. You will then be restricted to motorcycles of up to 25 kW for two years. After two years you may ride any size machine.
Direct or Accelerated Access
enables riders over the age of 21, or those who reach 21 before their two-year restriction ends, to ride larger motorcycles sooner. To obtain a licence to do so they are required to
Have successfully completed a CBT course
Pass a theory test, if they are required to do so
Pass a practical test on a machine with power output of at least 35 kW
To practise, they can ride larger motorcycles, with L plates (and/or D plates in Wales), on public roads, but only when accompanied by an approved instructor on another motorcycle in radio contact.
You
MUST NOT
carry a pillion passenger or pull a trailer until you have passed your test.
[Law MV(DL)R reg 16]
Moped licence requirements
A moped
MUST
have an engine capacity not exceeding 50 cc, not weigh more than 250 kg and be designed to have a maximum speed not exceeding 31 mph (50 km/h). From June 2003 all EC Type Approved mopeds have been restricted to 28 mph (45 km/h).
[Law RTA 1988 (as amended) sect 108]
To ride a moped,
learners
MUST
Be 16 or over
Have a provisional moped licence
Complete CBT training
You
MUST
first pass the theory test for motorcycles and then the moped practical test to obtain your full moped licence. If you passed your driving test before 1 February 2001 you are qualified to ride a moped without L plates (and/or D plates in Wales), although it is recommended that you complete CBT before riding on the road. If you passed your driving test after this date you
MUST
complete CBT before riding a moped on the road.
[Laws RTA 1988 sects 97(e) & 101 & MV(DL)R regs 38(4) & 43]
Note.
For motorcycle and moped riders wishing to upgrade, the following give exemption from taking the motorcycle theory test
Full A1 motorcycle licence
Full moped licence, if gained after 1/7/96
[Law MV(DL)R reg 42]
Annex 3. Motor vehicle documentation and learner driver requirements
Documents
Driving licence.
You
MUST
have a valid driving licence for the category of motor vehicle you are driving. You
MUST
inform the Driver and Vehicle Licensing Agency (DVLA) if you change your name and/or address.
[Law RTA 1988 sects 87 & 99(4)]
Holders of non-European Community licences who are now resident in the UK may only drive on that licence for a maximum of 12 months from the date they become resident in this country. To ensure continuous driving entitlement
A British provisional licence should be obtained and a driving test(s) passed before the 12-month period elapses, or
In the case of a driver who holds a licence from a country which has been designated in law for licence exchange purposes, the driver should exchange the licence for a British one
MOT.
Cars and motorcycles
MUST
normally pass an MOT test three years from the date of the first registration and every year after that. You
MUST NOT
drive a motor vehicle without an MOT certificate when it should have one. Exceptionally, you may drive to a pre-arranged test appointment or to a garage for repairs required for the test. Driving an unroadworthy motor vehicle may invalidate your insurance.
[Law RTA 1988 sects 45, 47, 49 & 53]
Insurance.
To use a motor vehicle on the road, you
MUST
have a valid insurance policy. This
MUST
at least cover you for injury or damage to a third party while using that motor vehicle. Before driving any motor vehicle, make sure that it has this cover for your use or that your own insurance provides adequate cover. You
MUST NOT
drive a motor vehicle without insurance. Also, be aware that even if a road traffic incident is not your fault, you may still be held liable by insurance companies.
[Law RTA 1988 sect 143]
Uninsured drivers can now be automatically detected by roadside cameras. Further to the penalties for uninsured driving listed in 'Penalties', an offender's vehicle can now be seized by the Police, taken away and crushed.
[Law RTA 1988, sects 165a & 165b]
The types of cover available are indicated below:
Third-party insurance
- this is often the cheapest form of insurance, and is the minimum cover required by law. It covers anyone you might injure or whose property you might damage. It does not cover damage to your own motor vehicle or injury to yourself.
Third-party, Fire and Theft insurance
- similar to third-party, but also covers you against your motor vehicle being stolen, or damaged by fire.
Comprehensive insurance
- this is the most expensive but the best insurance. Apart from covering other persons and property against injury or damage, it also covers damage to your own motor vehicle, up to the market value of that vehicle, and personal injury to yourself.
Registration certificate.
Registration certificates (also called harmonised registration certificates) are issued for all motor vehicles used on the road, describing them (make, model, etc) and giving details of the registered keeper. You
MUST
notify the Driver and Vehicle Licensing Agency in Swansea as soon as possible when you buy or sell a motor vehicle, or if you change your name or address. For registration certificates issued after 27 March 1997, the buyer and seller are responsible for completing the registration certificates. The seller is responsible for forwarding them to DVLA. The procedures are explained on the back of the registration certificates.
[Law RV(R&L)R regs 21, 22, 23 & 24]
Vehicle Excise Duty (VED).
Vehicle Excise Duty
MUST
be paid on all motor vehicles used or kept on public roads. From 1st October 2014 paper discs will no longer be issued.
[Law VERA sects 29 and 33]
Statutory Off-Road Notification (SORN).
This is a notification to the DVLA that a motor vehicle is not being used on the road. If you are the vehicle keeper and want to keep a motor vehicle untaxed and off the road you
MUST
declare SORN - it is an offence not to do so. The vehicle will remain SORN until you sell, tax or scrap it. If your vehicle is unused or off the road it
MUST
have either a SORN declaration or valid insurance.
[Law RV(RL)R 2002, reg 26 sched 4]
Production of documents.
You
MUST
be able to produce your driving licence and counterpart, a valid insurance certificate and (if appropriate) a valid MOT certificate, when requested by a police officer. If you cannot do this you may be asked to take them to a police station within seven days.
[Law RTA 1988 sects 164 & 165]
Learner drivers
Learners driving a car
MUST
hold a valid provisional licence. They
MUST
be supervised by someone at least 21 years old who holds a full EC/EEA licence for that type of car (automatic or manual) and has held one for at least three years.
[Laws MV(DL)R reg 16 & RTA 1988 sect 87]
Vehicles.
Any vehicle driven by a learner
MUST
display red L plates. In Wales, either red D plates, red L plates, or both, can be used. Plates
MUST
conform to legal specifications and
MUST
be clearly visible to others from in front of the vehicle and from behind. Plates should be removed or covered when not being driven by a learner (except on driving school vehicles).
[Law MV(DL)R reg 16 & sched 4]
You
MUST
pass the theory test (if one is required) and then a practical driving test for the category of vehicle you wish to drive before driving unaccompanied.
[Law MV(DL)R reg 40]
Annex 4. The road user and the law
Road traffic law
The following list can be found abbreviated throughout the Code. It is not intended to be a comprehensive guide, but a guide to some of the important points of law. For the precise wording of the law, please refer to the various Acts and Regulations (as amended) indicated in the Code. Abbreviations are listed below.
Most of the provisions apply on all roads throughout Great Britain, although there are some exceptions. The definition of a road in England and Wales is 'any highway and any other road to which the public has access and includes bridges over which a road passes' (RTA 1988 sect 192(1)). In Scotland, there is a similar definition which is extended to include any way over which the public have a right of passage (R(S)A 1984 sect 151(1)).
It is important to note that references to 'road' therefore generally include footpaths, bridleways and cycle tracks, and many roadways and driveways on private land (including many car parks). In most cases, the law will apply to them and there may be additional rules for particular paths or ways. Some serious driving offences, including drink-driving offences, also apply to all public places, for example public car parks.
Acts and regulations prior to 1988
Chronically Sick & Disabled Persons Act 1970 [CSDPA]
Functions of Traffic Wardens Order 1970 [FTWO]
Greater London (General Powers) Act 1974 [GL(GP)A]
Highway Act 1835 or 1980 (as indicated) [HA]
Motorways Traffic (England & Wales) Regulations 1982 [MT(E&W)R]
Motorways Traffic (England & Wales) Amended Regulations [MT(E&W)(A)R]
Pedal Cycles (Construction & Use) Regulations 1983 [PCUR]
Public Passenger Vehicles Act 1981 [PPVA]
Road Traffic Act 1984, 1988 or 1991 (as indicated) [RTA]
Road Traffic Regulation Act 1984 [RTRA]
Road Vehicles (Construction & Use) Regulations 1986 [CUR]
Roads (Scotland) Act 1984 [R(S)A]
Acts and regulations from 1988 onwards
Horses (Protective Headgear for Young Riders) Act 1990 [H(PHYR)A]
Horses (Protective Headgear for Young Riders) Regulations 1992 [H(PHYR)R]
Motor Cycles (Protective Helmets) Regulations 1980 [MC(PH)R]
Motorways Traffic (Scotland) Regulations 1995 [MT(S)R]
Motor Vehicles (Wearing of Seat Belts) Regulations 1993 [MV(WSB)R]
Motor Vehicles (Wearing of Seat Belts) Regulations 2006 [MV(WSB)(A)R]
Motor Vehicles (Wearing of Seat Belts by Children) Regulations 1993 [MVR]
New Roads and Streetworks Act 1991 [NRSWA]
Powers of Criminal Courts (Sentencing) Act 2000 [PCC(S)A]
Police Reform Act 2002 [PRA]
Road Traffic Act 1988 [RTA]
Road Traffic Act 1991 [RTA]
Road Traffic (New Drivers) Act 1995 [RT(ND)A]
Road Traffic Offenders Act 1988 [RTOA]
Road Vehicles Lighting Regulations 1989 [RVLR]
Traffic Management Act 2004 [TMA]
Traffic Signs Regulations & General Directions 2002 [TSRGD]
Use of Invalid Carriages on Highways Regulations 1988 [UICHR]
Vehicle Excise and Registration Act 1994 [VERA]
Zebra, Pelican and Puffin Crossings Regulations and General Directions 1997
Acts and regulations from 1988 can be viewed on the Office of Public Sector Information website (OPSI). Acts and regulations prior to 1988 are only available in their original print format which may be obtained from The Stationery Office. For further information visit the Stationery Office website (TSO).
Office of Public Sector Information website
The Stationery Office website
*Specific legislation applies to smoking in vehicles which constitute workplaces. For information, visit the sites below:
Smokefree England (www.smokefreeengland.co.uk)
Clearing the Air Scotland (www.clearingtheairscotland.com)
Annex 5. Penalties
Parliament sets the maximum penalties for road traffic offences. The seriousness of the offence is reflected in the maximum penalty. It is for the courts to decide what sentence to impose according to circumstances.
The penalty table below indicates some of the main offences, and the associated penalties. There is a wide range of other more specific offences which, for the sake of simplicity, are not shown here. The penalty points and disqualification system is described below.
Penalty points and disqualification
The penalty point system is intended to deter drivers and motorcyclists from following unsafe motoring practices. Certain non-motoring offences, e.g. failure to rectify vehicle defects, can also attract penalty points. The court
MUST
order points to be endorsed on the licence according to the fixed number or the range set by Parliament. The accumulation of penalty points acts as a warning to drivers and motorcyclists that they risk disqualification if further offences are committed.
[Law RTOA sects 44 & 45]
A driver or motorcyclist who accumulates 12 or more penalty points within a three-year period
MUST
be disqualified. This will be for a minimum period of six months, or longer if the driver or motorcyclist has previously been disqualified.
[Law RTOA sect 35]
For every offence which carries penalty points the court has a discretionary power to order the licence holder to be disqualified. This may be for any period the court thinks fit, but will usually be between a week and a few months.
In the case of serious offences, such as dangerous driving and drink-driving, the court
MUST
order disqualification. The minimum period is 12 months, but for repeat offenders or where the alcohol level is high, it may be longer. For example, a second drink-drive offence in the space of 10 years will result in a minimum of three years' disqualification.
[Law RTOA sect 34]
Please note the penalties listed under 'Imprisonment', 'Fine' and 'Disqualification' are maximum penalties.
Offence
Imprisonment
Fine
Disqualification
Penalty points

*causing death by dangerous driving

14 years

Unlimited

Obligatory - 2 years minimum

3-11 (if exceptionally not disqualified)

*Dangerous driving

2 years

Unlimited

Obligatory

3-11 (if exceptionally not disqualified)

*Causing death by careless driving under the influence of drink or drugs

14 years

Unlimited

Obligatory-2 years minimum

3-11 (if exceptionally not disqualified)

Careless and inconsiderate driving

-

5,000

Discretionary

3-9

Driving while unfit through drink or drugs or with excess alcohol: or failing to provide a specimen for analysis

6 months

5,000

Obligatory

3-11 (if exceptionally not disqualified)

Failing to stop after an accident or failing to report an accident

6 months

5,000

Discretionary

5-10

Driving when disqualified

6 months (12 months in Scotland)

5,000

Discretionary

6

Driving after refusal or revocation of licence on medical grounds

6 months

5,000

Discretionary

3-6

Driving without insurance

-

5,000

Discretionary

6-8

Using a vehicle in a dangerous condition

-

LGV 5,000
PCV 5,000
Other 2,500

Obligatory if offence committed within 3 years of a previous conviction for the same offence - 6 months minimum otherwise discretionary

3 in each case

Failure to have proper control of vehicle or full view of the road and traffic ahead, or using a hand-held mobile phone while driving

-

1,000 (2,500 for PCV or goods vehicle)

Discretionary

3

Driving otherwise than in accordance with a licence

-

1,000

Discretionary

3-6

Speeding

-

1,000 (2,500 for motorway offences)

Discretionary

3-6 or 3 (fixed penalty)

Traffic light offences

-

1,000

Discretionary

3

No MOT certificate

-

1,000

-

-

Seat belt offences

-

500

-

-

Dangerous cycling

-

2,500

-

-

Careless cycling

-

1,000

-

-

Cycling on pavement

-

500

-

-

Failing to identify driver of a vehicle

-

1,000

Discretionary

3
*Where a court disqualifies a person on conviction for one of these offences, it must order an extended retest. The courts also have discretion to order a retest for any other offence which carries penalty points, an extended retest where disqualification is obligatory, and an ordinary test where disqualification is not obligatory.
Furthermore, in some serious cases, the court
MUST
(in addition to imposing a fixed period of disqualification) order the offender to be disqualified until they pass a driving test. In other cases the court has a discretionary power to order such disqualification. The test may be an ordinary length test or an extended test according to the nature of the offence.
[Law RTOA sect 36]
New drivers.
Special rules as set out below apply for a period of two years from the date of passing their first driving test, to drivers and motorcyclists from
The UK, EU/EEA, the Isle of Man, the Channel Islands or Gibraltar who passed their first driving test in any of those countries
Other foreign countries who have to pass a UK driving test to gain a UK licence, in which case the UK driving test is treated as their first driving test; and
Other foreign countries who (without needing a test) exchanged their licence for a UK licence and subsequently passed a UK driving test to drive another type of vehicle, in which case the UK driving test is treated as their first driving test. For example a driver who exchanges a foreign licence (car) for a UK licence (car) and who later passes a test to drive another type of vehicle (e.g. an HGV) will be subject to the special rules
Where a person subject to the special rules accumulates six or more penalty points before the end of the two-year period (including any points acquired before passing the test) their licence will be revoked automatically. To regain the licence they must reapply for a provisional licence and may drive only as a learner until they pass a further driving test (see also \'Safety code for new drivers\').
[Law RT(ND)A]
Note. This applies even if they pay for offences by fixed penalty. Drivers in the first group (UK, EU/EEA etc.) who already have a full licence for one type of vehicle are not affected by the special rules if they later pass a test to drive another type of vehicle.
Safety code for new drivers
Other consequences of offending
Where an offence is punishable by imprisonment then the vehicle used to commit the offence may be confiscated.
[Law PCC(S)A, sect 143]
In addition to the penalties a court may decide to impose, the cost of insurance is likely to rise considerably following conviction for a serious driving offence. This is because insurance companies consider such drivers are more likely to be involved in a collision.
Drivers disqualified for drinking and driving twice within 10 years, or once if they are over two and a half times the legal limit, or those who refused to give a specimen, also have to satisfy the Driver and Vehicle Licensing Agencys Medical Branch that they do not have an alcohol problem and are otherwise fit to drive before their licence is returned at the end of their period of disqualification. Persistent misuse of drugs or alcohol may lead to the withdrawal of a driving licence.
Annex 6. Vehicle maintenance safety and security
Vehicle maintenance
Take special care that lights, brakes, steering, exhaust system, seat belts, demisters, wipers and washers are all working. Also
Lights, indicators, reflectors, and number plates

MUST

be kept clean and clear
Windscreens and windows

MUST

be kept clean and free from obstructions to vision
Lights

MUST

be properly adjusted to prevent dazzling other road users. Extra attention needs to be paid to this if the vehicle is heavily loaded
Exhaust emissions

MUST NOT

exceed prescribed levels
Ensure your seat, seat belt, head restraint and mirrors are adjusted correctly before you drive
Ensure that items of luggage are securely stowed
[Laws RVLR 1989 regs 23 & 27 & CUR 1986, regs 30 & 61]
Warning displays.
Make sure that you understand the meaning of all warning displays on the vehicle instrument panel. Do not ignore warning signs, they could indicate a dangerous fault developing.
When you turn the ignition key, warning lights will be illuminated but will go out when the engine starts (except the handbrake warning light). If they do not, or if they come on while you are driving, stop and investigate the problem, as you could have a serious fault
If the charge warning light comes on while you are driving, it may mean that the battery isn't charging. This should also be checked as soon as possible to avoid loss of power to lights and other electrical systems
Window tints.
You
MUST NOT
use a vehicle with excessively dark tinting applied to the windscreen, or to the glass in any front window to either side of the driver. Window tinting applied during manufacture complies with the Visual Light Transmittance (VLT) standards. There are no VLT limits for rear windscreens or rear passenger windows.
[Laws RTA 1988 sect 42 & CUR reg 32]
Tyres.
Tyres
MUST
be correctly inflated to the vehicle manufacturers specification for the load being carried. always refer to the vehicles handbook or data. Tyres should be free from certain cuts and other defects
Fluid levels.
Check the fluid levels in your vehicle at least weekly. Low brake fluid may result in brake failure and a crash. Make sure you recognise the low fluid warning lights if your vehicle has them fitted.
Before winter.
Ensure that the battery is well maintained and that there are appropriate anti-freeze agents in your radiator and windscreen bottle.
Other problems.
If your vehicle
Pulls to one side when braking, it is most likely to be a brake fault or incorrectly inflated tyres. Consult a garage or mechanic immediately
Continues to bounce after pushing down on the front or rear, its shock absorbers are worn. Worn shock absorbers can seriously affect the operation of a vehicle and should be replaced
Smells of anything unusual such as burning rubber, petrol or an electrical fault; investigate immediately. Do not risk a fire
Overheated engines or fire.
Most engines are water-cooled. If your engine overheats you should wait until it has cooled naturally. Only then remove the coolant filler cap and add water or other coolant.
If your vehicle catches fire, get the occupants out of the vehicle quickly and to a safe place. Do not attempt to extinguish a fire in the engine compartment, as opening the bonnet will make the fire flare. Call the fire brigade.
Petrol stations/fuel tank/fuel leaks.
Ensure that, when filling up your vehicles tank or any fuel cans you are carrying, you do not spill fuel on the forecourt. Any spilled fuel should be immediately reported to the petrol station attendant. Diesel spillage is dangerous to other road users, particularly motorcyclists, as it will significantly reduce the level of grip between the tyres and road surface. Double-check for fuel leaks and make sure that
You do not overfill your fuel tank
The fuel cap is fastened securely
The seal in the cap is not torn, perished or missing
There is no visual damage to the cap or the fuel tank
Emergency fuel caps, if fitted, should form a good seal.
Never smoke, or use a mobile phone, on the forecourt of petrol stations as these are major fire risks and could cause an explosion.
Vehicle security
When you leave your vehicle you should
Remove the ignition key and engage the steering lock
Lock the car, even if you only leave it for a few minutes
Close the windows completely
Never leave children or pets in an unventilated car
Take all contents with you, or lock them in the boot. Remember, for all a thief knows a carrier bag may contain valuables
Never leave vehicle documents in the car
For extra security
fit an anti-theft device such as an alarm or immobiliser. If you are buying a new car it is a good idea to check the level of built-in security features. Consider having your registration number etched on all your car windows. This is a cheap and effective deterrent to professional thieves.
Annex 7. First aid on the road
In the event of an incident, you can do a number of things to help, even if you have had no training.
1. Deal with danger
Further collisions and fire are the main dangers following a crash. Approach any vehicle involved with care. Switch off all engines and, if possible, warn other traffic. Stop anyone from smoking.
2. Get help
Try to get the assistance of bystanders. Get someone to call the appropriate emergency services as soon as possible. They will need to know the exact location of the incident and the number of vehicles involved.
3. Help those involvedDO NOT
move casualties still in vehicles unless further danger is threatened.
DO NOT
remove a motorcyclists helmet unless it is essential. Remember the casualty may be suffering from shock.
DO NOT
give them anything to eat or drink.
DO
try to make them warm and as comfortable as you can, but avoid unnecessary movements.
DO
give reassurance confidently and try no to leave them alone or let them wander into the path of other traffic.
4. Provide emergency care
Remember the letters
DR A B C:
D - Danger
- check that you are not in danger.
R - Response
- try to get a response by asking questions and gently shaking their shoulders.
A - Airway
- the airway should be clear and kept open. Place one hand on the forehead, two fingers under the chin and gently tilt the head back.
B - Breathing
- normal breathing should be established. Once the airway is open check breathing for up to 10 seconds.
C - Compressions
- if they are not breathing normally compressions should be administered to maintain circulation; place two hands in the centre of the chest and press down 4-5 cms at a rate of 100/minute. You may only need one hand for a child. Give 30 chest compressions. Then tilt the head back gently, pinch the casualtys nostrils together and place you mouth over theirs. Give two breaths, each lasting one second (use gentle breaths for a small child).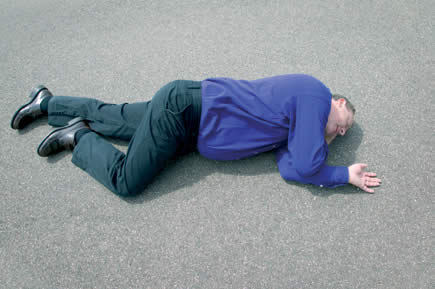 Bleeding.
First check for anything that may be in the wound, such as glass. If there is nothing embedded apply firm pressure over the wound. Take care not to press on the object - build up padding on either side of it. Fasten a pad to the wound with a bandage or length of cloth. Use the cleanest material available. If a limb is bleeding, but not broken, raise it above the level of the heart to reduce the flow of blood. Any restriction of blood circulation for more than a short time could cause long-term injuries.
Burns.
Try to cool the burn by dousing it with clean, cold water or similar non-toxic liquid for at least 10 minutes. Do not try to remove anything sticking to the burn.
5. Be prepared
Always carry a first aid kit. You could save a life by learning emergency aid and first aid from a qualified organisation, such as the local ambulance services, the St John Ambulance Association and Brigade, St Andrews Ambulance Association, the British Red Cross or any suitable qualified body
Annex 8. Safety code for new drivers
Once you have passed the driving test you will be able to drive on your own. This will provide you with lots of opportunities but you need to remain safe. Even though you have shown you have the skills you need to drive safely, many newly qualified drivers lack experience. You need to continue to develop your skills, especially anticipating other road users' behaviour to avoid having a collision. As many as one new driver in five has some kind of collision in their first year of driving. This code provides advice to help you get through the first twelve months after passing the driving test, when you are most vulnerable, as safely as possible.
Many of the worst collisions happen at night. Between midnight and 6 am is a time of high risk for new drivers. Avoid driving then unless it's really necessary
If you are driving with passengers, you are responsible for their safety. Don't let them distract you or encourage you to take risks. Tell your passengers that you need to concentrate if you are to get to your destination safely
Never show off or try to compete with other drivers, particularly if they are driving badly
Don't drive if you have consumed any alcohol or taken drugs. Even over-the-counter medicines can affect your ability to drive safely - read the label to see if they may affect your driving
Make sure everyone in the car is wearing a seat belt throughout the journey
Keep your speed down - many serious collisions happen because the driver loses control, particularly on bends.
Most new drivers have no experience of driving high-powered or sporty cars. Unless you have learnt to drive in such a vehicle you need to get plenty of experience driving on your own before driving a more powerful car
Driving while uninsured is an offence.

REMEMBER
that under the New Drivers Act you will have your licence revoked if you get six penalty points on your licence within two years of passing your first driving test. You will need to pass both the theory and practical tests again to get back your full licence.
You could consider taking further training such as Pass Plus, which could also save you money on your insurance, as well as helping you reduce your risk of being involved in a collision. There are three ways to find out more:
Internet - www.passplus.org.uk
Telephone - DSA head office on 0115 901 2633
Email - passplus@dsa.gsi.gov.uk
Annex Other Information
Metric conversions
The conversions given throughout The Highway Code are rounded but a detailed conversion chart is shown below.
| | | | |
| --- | --- | --- | --- |
| Miles | Kilometres | Miles | Kilometres |
| 1.00 | 1.61 | 40.00 | 64.37 |
| 5.00 | 8.05 | 45.00 | 72.42 |
| 10.00 | 16.09 | 50.00 | 80.47 |
| 15.00 | 24.14 | 55.00 | 88.51 |
| 20.00 | 32.19 | 60.00 | 96.56 |
| 25.00 | 40.23 | 65.00 | 104.60 |
| 30.00 | 48.28 | 70.00 | 112.65 |
| 35.00 | 56.33 | | |
Useful websites
St John Ambulance (http://www.sja.org.uk)
St Andrew's Ambulance Association (www.firstaid.org.uk)
British Red Cross (www.redcross.org.uk)
Department for Transport (www.dft.gov.uk)
Transport Office (www.transportoffice.gov.uk)
Highways Agency - traffic information (England)(www.highways.gov.uk)
LARSOA - road safety (www.larsoa.org.uk)
Collision Reporting (www.collisionreporting.gov.uk)
Police - Frequently asked questions (www.askthe.police.uk)
National Parking Adjudication Service - parking appeals (outside London)(www.parking-appeals.gov.uk)
Parking and Traffic Appeals Service (inside London) (www.parkingandtrafficappeals.gov.uk)
Further reading
Best practice
Further information about good driving and riding practice can be found in the Driving Standards Agency books 'The Official DSA Guide to Driving - the essential skills' and 'The Official DSA Guide to Riding - the essential skills'. Information specifically for drivers of large vehicles can be found in 'The Official DSA Guide to Driving Goods Vehicles' and 'The Official DSA Guide to Driving Buses and Coaches'.
Code of Practice for Horse-Drawn Vehicles
The Code of Practice is available from the Department for Transport, Transport Technology and Standards Division 6, 2nd Floor, Great Minster House, 76 Marsham Street, London SW1P 4DR. Tel 0207 944 2078
Road works
A leaflet giving further information on driving through road works can be obtained from Highways Agency Publications, tel 0870 1226 236, quoting reference number HA113/04. For general Highways Agency information, tel 08457 504030 or email
ha_info@highways.gsi.gov.uk